Shopping Basket
Your Basket is Empty
There was an error with PayPal
Click here to try again
Thank you for your business!
You should receive an order confirmation from Paypal shortly.
Exit Shopping Basket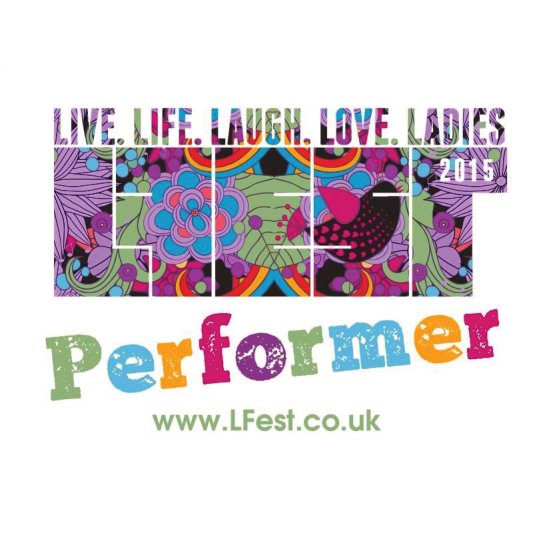 I've just got back from L-Fest in Uttoxeter, where as well as performing in " All The Nice Girls" with my partner, Ali Child I was on the Green Stage for BoiBox. It was the first time I've been to L-Fest and I though it was a fantastic event. I thoroughly recommend it for next year. Everything about it was quality, from the artists and performers to the organisation of the festival. Well done Cindy Edwards and everyone else who made it happen. I'm delighted to have been part of it.
I was delighted to appear at two recent gigs in March and April. First up was the March BoiBox. The Boi-ing 747 theme was a good opportunity to sing the ever popular "Fly Me To The Moon" and "Come Fly With Me". I love Frank Sinatra, so any chance to swing out is taken with gusto!

Then I  appeared at the Fabulous Fifties Evening. My fifties-style lounge singer set opened the show, and the fabulous Ade Harvey and the Stuntmen and DJ Lonesome M made sure that the keen Jivers and Lindy-Hoppers stayed on the dance floor until the close of the event. It was a very successful evening with over £1000 raised for aid to Zanzibar dentistry.
Well it's hard to believe that just 3 weeks ago I returned from yet another sojourn in my favourite holiday village Skala Eressos.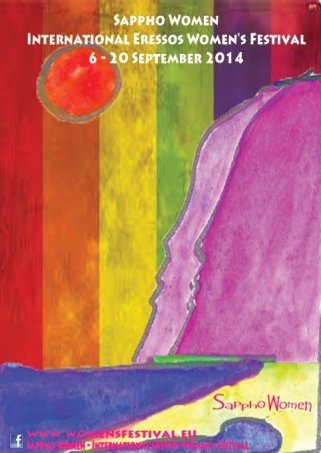 For the third year running I performed at the International Women's Festival. A wonderful event that has regular visitors returning to year after year.
This year the highlight event, The Fashion Show, was hosted by Brighton's own Nicky Mitchell alongside Joanna Savva, a prominent member of the local community and patron of the festival who left her customary post behind the scenes to step into the spotlight for the first time.
The pair provided a wonderfully entertaining act that was reminiscent of Eurovision at its best!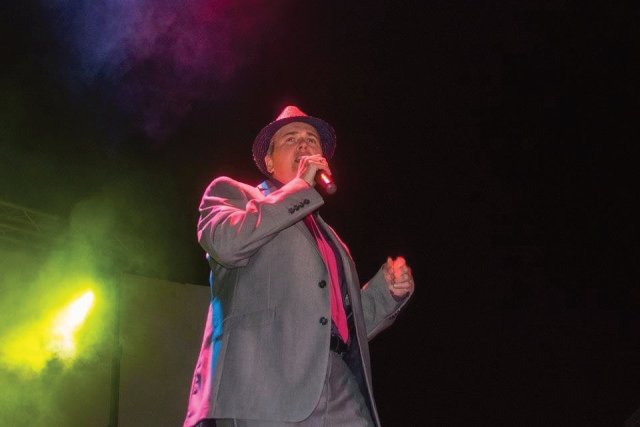 As usual I had an absolute ball! This time I went for two weeks which meant two fashion shows! Playing the catwalk stage in the local outdoor cinema with a brilliant sound rig, some serious lighting and a full house of people determined to have a good time is close to a performers idea of heaven!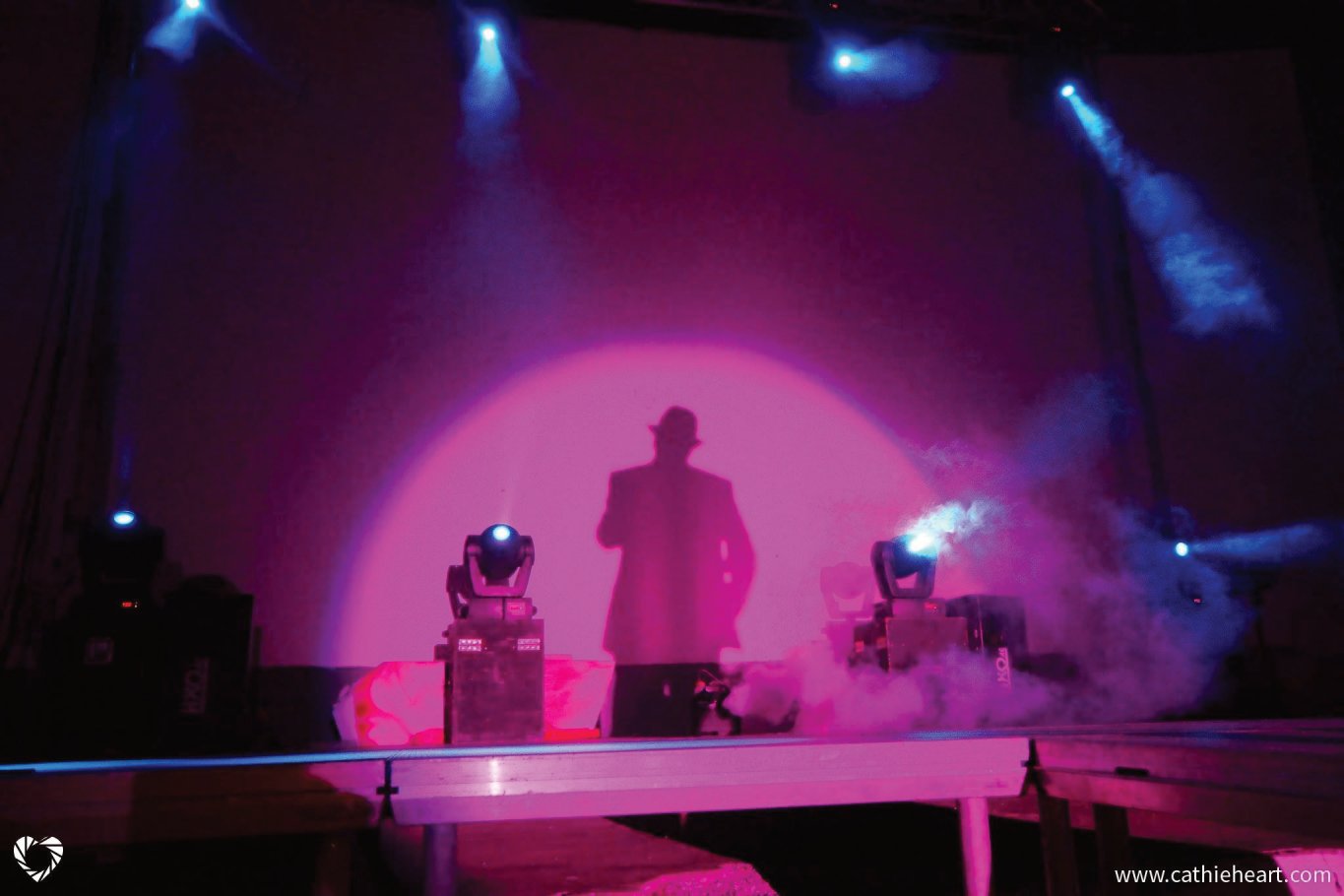 I also made time to perform a charity gig on behalf of the local animal sanctuary. It was hosted by a local bar/restaurant, "The Rock" and many local business came good with support for the event by donating some impressive prizes for auction at the event. Valuable funds were raised, so a heartfelt "well done" to the organisers.
I had a fab time at The Brighton Fringe this year. This was an opportunity to perform to festival goers who had selected my gig from the many publicised in the official fringe promotional material. The audiences consisted of many who had never seen me before, which was great for me in terms of raising my profile. And I got some really great feedback from them. A deal with the venue meant that admission was free to this event, but one man went out of his way to offer me £20 at the end of my set because he thought I was more than worth it! I didn't accept of course - that wouldn't have been fair as nobody else had paid. But I suggested that he spread to word to his friends about Ronnie Rialto, and he said he would definitely come to see me again.
So all in all a very enjoyable run at the Cubar - I hope to back at the Fringe next year!
Next up is a private party in Salisbury on 27th June followed by a return to one of my favourite places the lovely, intimate  Rabbit Hole Bar in Brighton on 5th July. I'll be blogging about those soon after.

I've had an amazing last few weeks doing some wonderful gigs with some of my favorite people.

First up was
Charity Cabaret  
on 22nd Feb
at
The Basement
in Kensington Street Brighton. I was delighted to be part of a brilliant line-up that included The
Short & Girlies
,
Hannah Brackenbury
,
Lara A King
,
Jan Allain
, and was headlined by
Claire Summerskill
.
The near-to-capacity audience were treated to a memorable night of entertainment that raised £900 for Brighton Women's Centre. Well done to Annabel Pribelski for organising the event and compering very competently on the night too!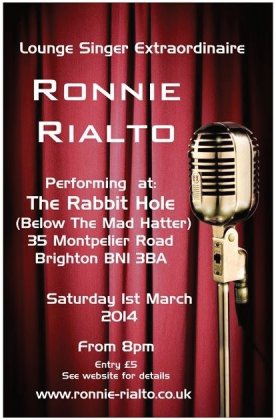 Then on 1st March I had my regular gig at The Rabbit Hole Bar. After the poor weather we've had that has kept most people huddled up indoors, I wasn't sure who would venture out. I needn't have worried as a party of people arrived determined to celebrate a  significant birthday  with a soundtrack of Jazz Swing & Blues provided by yours truly. Thanks Metropolitan Police people - you certainly know how to have a good time!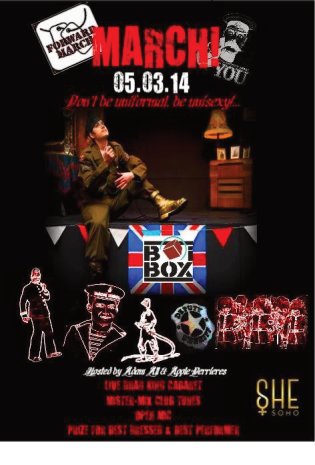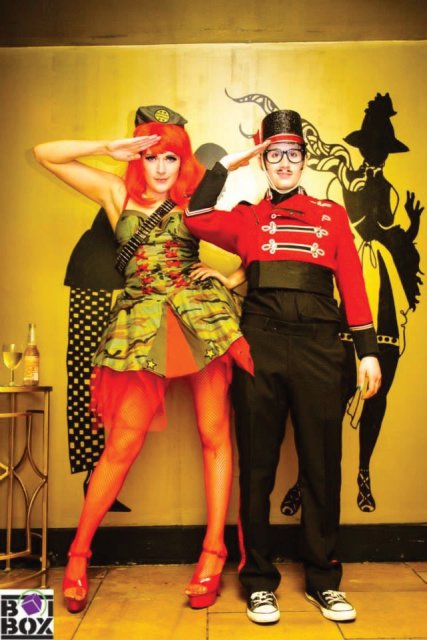 Then, on 5th March it was "March" at
BoiBox
. This gig has recently moved from the Candy Bar to
SHE SOHO
in London's Old Compton Street. This is a great venue and with a uniform theme everyone was dressed to impress, especially our hosts Adam All and Apple Derrieres (pictured right - photo by Emma Bailey)
And the 2 weeks were capped off with an appearance at the International Women's Day celebrations in at The Dome in Brighton.
it was an absolutely lovely event well supported by the local community. I hung around with friends for several hours there, enjoying the entertainment and speeches and even finding time for a reflexology treatment! A lovely treat for my Marching feet!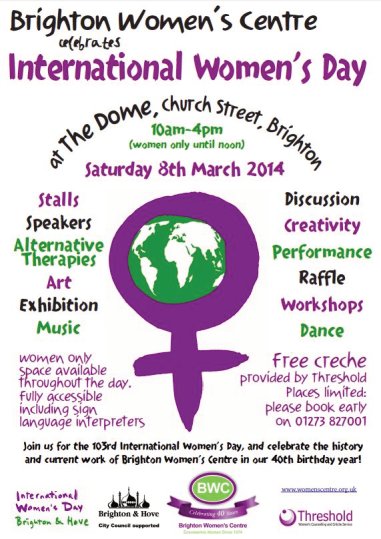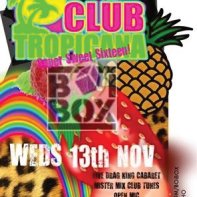 I've been neglecting my blog duties of late - but that's not because there's nothing to report! In fact the opposite! Since my last post I've appeared at the wonderful Boi Box at the Candy Bar, Soho twice. Firstly at the 'Club Tropicana' night on 13th November and then at 'Christmas Jumpers' on 11th December.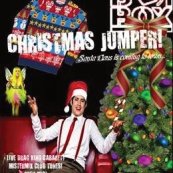 Boi Box is hosted by the debonair dandy Adam 'All and his very glamorous assistant Apple Derrieres and a more fun all-inclusive night out could not be had elsewhere! I thoroughly recommend it!
I also had a ball at Brenda's 64th birthday party. This was my first opportunity to perform at The Bedford Arms in Brighton. Matt, the guvnor had seen me before fleetingly at The Grosvenor Bar but always had to rush off to tend his own bar. He was a brilliant host and Brenda, who is a Bedford regular had a wonderful time celebrating her birthday with all her friends.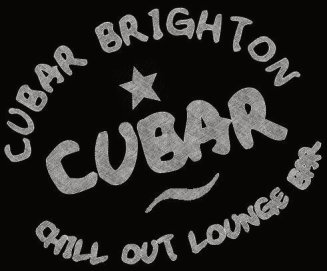 Saturday 14th December saw my debut at Cubar, a cocktail bar under new management in Preston Street in Brighton. The bar is now run by a sister and brother combo; Sophia and Nick. The theme for a chillout Saturday afternoon was a Cheese & Wine Party. Sophia really did her homework and presented a platter of different cheeses arranged in an order so as not to ruin the palate for each one & wines to complement each cheese. My friends who attended really loved the concept and execution of it and we all look forward to a repeat event in the near future.
I'll be returning to Cubar in January & February. Look out for future gigs from me on my events page.
Well following my sojourn in Lesvos, I returned to a very busy schedule of events, and I can only now draw breath and find time to update my blog. 

First up was the
Kenric Brighton
event at the
Thistle Hotel
. This was the first such event put on by the recently-formed Brighton branch. it was well supported by members from far & wide and they showed their appreciation by singing along and dancing  to my set and then carrying on until the music stopped close to midnight to a fabulous selection of memorable tunes from
DJ Rosie Retro.
Regional organiser, Frankie, declared the night's entertainment a resounding success and has suggested that we do something similar in the not-too-distant future. I'll definitely be up for that!
This event was swiftly followed the next day by Dee & Pier's 25th Wedding Anniversary Celebration. It was a really lovely family-focussed occasion. The setting was in a large private house with an enormous japanese-style garden. The raised decked area in the corner of the garden formed a perfect stage, and I must say that I was reminded of the wedding scene from The Godfather, where the lounge singer (Al Martino playing a Sinatra type character, I think) is singing in the gardens of the palatial Corleone home. Although near the end of September, the weather held for us, and the sun was actually shining for most of the afternoon.
The following weekend (Saturday 5th October) I was back at my regular Jazz, Swing & Blues venue, The Rabbit Hole. I really enjoy doing this gig and hope to continue into 2014.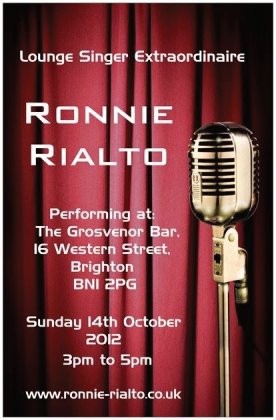 And finally, on 14th October I returned to The Grosvenor Bar for my Sunday afternoon repertoire of popular standards.
 It's always lovely to perform there, the hosts Chris & Ali provide such a warm welcome, and the clientele of mostly regulars are a brilliant audience. One of them, Brenda, has booked me to perform at her 64th birthday party in November, in the pub down the road from there, The Bedford Arms. I look forward to that immensely!

I've just got back from
The International Eressos Women's Festival in Lesvos, Greece.
What a great time I had:
On Tuesday I performed at the Aeolian Village Poolside Bar, and then on Wednesday an impromptu performance, encouraged by Jazz & Blues performer Nicky Mitchell who was hosting at Roots Bar, followed by the highlight of the week for me which was opening the Fashion Show, on the Festival Main Stage in the open cinema in the centre of Skala Eressos.
It was a fantastic event, the place was packed to the gunnells with gorgeous women who gave me an incredible reception and were really in a party mood. Eressos Villagers were treated to an awesome rendition of Can't Take My Eyes Off Of You as everybody present joined in. If there had been a roof we would definitely have raised it!
Following my performance was the hugely enjoyable Fashion Show where locals and visitors strutted their stuff up and down the catwalk modelling clothes, jewellery and accessories mainly from the local shops and businesses who sponsor the event. The obvious exception to this was the inclusion of designs from British underwear company, FOCX. The event was excellently compered by Lucy Davina Checkley.
Thanks to everyone who contributed to my amazing holiday:  Faye, DJ XXRP, DJ Wendy, DJ Heidi, Nicky Mitchell, Amity (loved your show on Sunday night) Vicky from Roots and all the lovely Skala Womens Rock Group and Animal Welfare Organisation.
Thanks too to Joanna from Sappho Travel, without whom the festival wouldn't happen.
Hopefully I haven't forgotten anybody - If I have - apologies I love you too!
Finally, at the risk of sounding like the recipient of an Oscar, I'd like to say thanks to my friend, supporter and travelling companion Mandy, and to our little holiday friendship group which included people from Leeds & Worcester . Thanks Guys - it was a complete blast!
The event was to raise funds for Carrie & Lou to go to Tanzania with 'Bridge 2 Aid'.
Guests were encouraged to dress up in African garb, and a face painter was on hand to add essential animal markings to those wanting to really explore their inner African beast.
Live entertainment for the evening was provided by yours truly, Ronnie Rialto, and upcoming local Brighton band 'Blind Ammunition'. DJ Ray Charles rounded off the evening with some great dance tunes.
It was all very eclectic and very Brighton. A fun evening with funds raised going to a very worthy cause.
/